https://www.mini-mundus.at/en/mini-mundus-catalog-en
Mini Mundus Catalog - EN
https://www.mini-mundus.at/en/mini-mundus-catalog-en
EUR
8.50
new
2497
€ 8,50
incl. 19 % VAT excl. shipping costs
---
weight 0,13 kg
delivery time 2-3 Tage

Sofort versandfähig, ausreichende Stückzahl
For this product and a shopping cart value over EUR 1, Customers will receive at least 85 Loyalty points.
---
Wishlist:
Mini Mundus Catalog - EN
---
Product.Nr. 99911
There are no reviews for this product
:
You receive 100 loyalty points for each product review. Write a review
---
Mini Mundus Catalog in ENGLISH
46 pages in color, includes all items such as furniture kits, the Module Box, dolls houses, wallpaper, lamps, electrical accessories and much more.
It also includes all of the building elements, such as windows, doors, staircases, banister components, roof shingles, door fittings, floors, etc.

Mini Mundus Online Catalog to browse:

Click here to view the catalog in "Fullcreen".

The fastest way to shop!
Shopping: Just click on the desired product.
Browse: "<-" Previous page - or - Next page "->"
Zoom: Click in the on the "+" magnifying class.
Full-text search: Click on the magnifying class.
End full screen: Click on the "Esc" key.
Have fun!
Hint:
Shipping costs: € 2,75 postage for the shipping of
one
catalogue,
one
brochure or
one
construction manual within Germany; if there are further items in the shopping cart, please select the shipping option "Shipping costs Germany" at the checkout. From a purchase value of € 50 we ship within Germany free of shipping costs.
Useful additions
Complete set – Antique kitchen without stove
Product.Nr. 40210
€ 165,00 -15% RRP € 194,10 *
The item is sold out.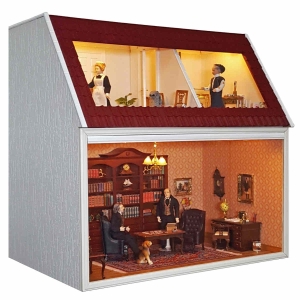 Small MODULE BOX HOUSE with Top floor and studio window
Product.Nr. 90170

€ 163,00 -10.2% RRP € 181,50 *
0.0

0

Reviews
Collect loyalty points now
You receive 100 loyalty points for each product review. learn more
There are no reviews for this product